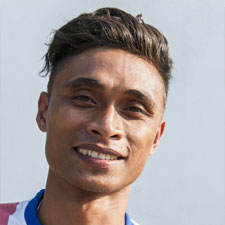 Marleno is professional, private Tourguide from Flores and is very happy to show you around his home.
Visit his Website to get more information on his custom tours Marleno Flores Tourguide or come visit us at our place in Wairterang Beach, he will provide you with all information you need – doesn't matter if you want to explore the whole island or just go on daytrips around Wairterang.
---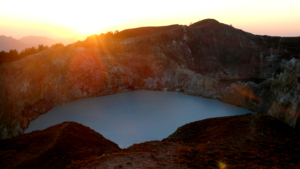 Flores Overland
This tour will bring you to all major sights on Flores, going from Maumere to Labuanbajo – or vice versa. You will start with a breathtaking sunrise at the three coloured crater lakes of Kelimutu, visit the 17 Islands Marine Park on a boat trip. You will see the traditional Ngada villages of Bena, the unique sight of the last Manggarai village Waerebo with its scenic mountain setting and unseen housing. Ricefields in spiderweb shapes lie on the way to Ruteng and Labuanbajo. To finish off you will do a boat trip across the Komodo National Park, enjoy snorkeling, visit the endemic Komodo Dragon and see huge amounts of flying foxes flying back home to their island in the afternoon. See the full programme …
---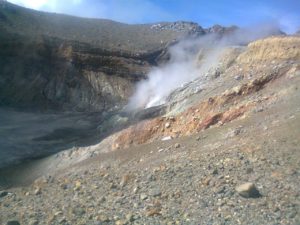 Mount Egon Volcano Trekking
Enjoy the amazing smoking crater on a half-day Trip starting from Sante Sante. See the trip …
---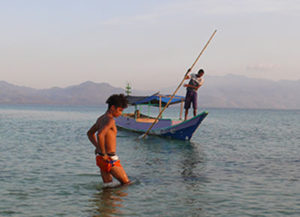 Island Camping Adventure
Robinson-Crusoe-like snorkeling, camping, relaxing and enyoing magical sunset with fish-barbeque on deserted islands. We start from Sante Sante straight to the Islands … Check out!
---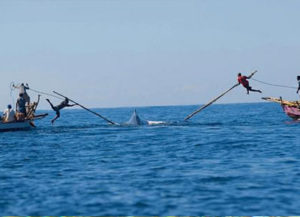 Traditional Whale Hunting in Lamalera
"Lamalera, on the south coast of the island of Lembata, and Lamakera on neighbouring Solor are the last two remaining Indonesian whaling communities. The hunters have religious taboos that ensure that they use every part of the animal. About half of the catch is kept in the village; the rest is traded in local markets, using barter. The whale-hunts are carried out in a traditional manner, with bamboo spears and using small wooden outriggers, 10–12 m long and 2 m wide, constructed without nails and with sails woven from palm fronds. The animals are killed by the harpooner leaping onto the back of the animal from the boat to drive in the harpoon." (Wikipedia).
See the tour …